Monthly Small Batch Release
As a brewpub, we serve delicious, diverse menus alongside local, freshly brewed beer. Basically, we're one of those "breweries with food" that are hard to find. Our small batch series ignites creativity within our Minneapolis brewpub as we construct unique flavors.
Our brewers select fresh ingredients that produce bold flavors. They brew a small batch to be released on the first Wednesday of every month – poured all day long. Each brew is then carefully paired with a locally sourced bite straight from our kitchen – no taste bud will leave unhappy.
Together our small batch craft beer & food pairing provides the true brewpub experience.
4 REASONS SMALL BATCH BREWING DRIVES US!
Each batch provides more opportunities to partner with local businesses. It's important to us that we continue to find new partnerships that can bring attention to the significance of supporting local. Our brewers have even helped harvest new ingredients for some of our past small batches!
Minneapolis breweries continue to advance. Our creative edge is testing out new flavor profiles that can be transitioned into our seasonal beers. Once the beer is complete, our Head Chef takes the time to select a perfectly paired dish. What better way to gain the attention of beer lovers, than to provide unique, craft beer flavors paired alongside a handcrafted bite to eat!
How creative is too creative? We are yet to find out. Check out some of our favorite past creations: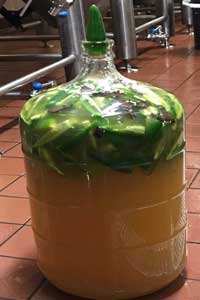 August 2017 – Spicy Blonde Ale
Spicy Blonde Ale paired with a Cucumber Raita w/ house-made flat bread.
Minnesota nice with a little bit of spice. This small batch gave our brewers the creativity of spicy meets brew. We took one of the most approachable beers & added pounds of peppers to the secondary – jalapeno, habanero & cayenne to be exact. Each nose full is a divine mixture of an easy-going beer topped off with the perfect amount of spice. Can you take the heat?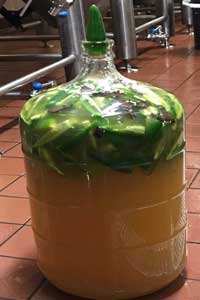 October 2017 – Carmel Apple Sour
Caramel Apple Sour
paired with
Caramel Apple Sauce
– caramel drizzle topped with crushed nuts.
Nothing says Fall like a fresh apple picked from the orchard & dipped in caramel. This beer has notes of cinnamon, nutmeg & allspice combine with tart green apple flavors and caramel. Each flavor blends harmoniously together for a cozy, fall brew. It's time to start October by bobbing for apples (kinda)!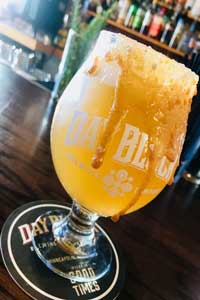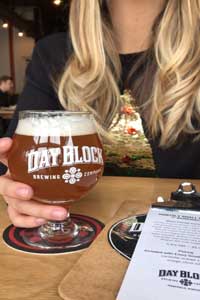 December 2017 – Pomegranate White IPA
Pomegranate White IPA
paired with
Coriander orange scones
w/orange clove icing.
Holiday Inspired Belgian IPA. Pomegranate and Amarillo hops add a light quality that blends with the spice of the Belgian yeast. Biscuit sweet malt blends back into a citrus pomegranate note with a subtle spice element. Aroma is orange and spice (coriander and clove) like a traditional Belgian Wit with a hop burst.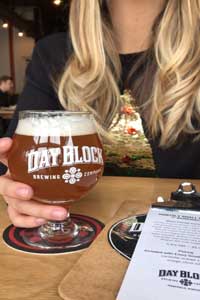 Small Batch gives the chance to let each customer's voices be heard! Our bartenders and brewers love pouring our small batches to hear how flavor profiles go over. The continual feedback and conversation around each batch paints a picture of what our customers want to see more of. Have any suggestions on what our next batch should be? Leave a comment below!
Using a smaller scale allows our brewers to directly see chemical reactions within the beer. They can play with the pH levels, substitute different sugars and forecast how it would react within the big system. Small batch provides the scientific benefits of chemistry – the core of brewing beer.
This is why Small Batch brewing drives us!  Swing by every first Wednesday of the month for our Small Batch brew – poured all day long.  Our bartenders & brewers will be pouring and available to answer any questions you have about what small batch brewing entails. Oh, & don't forget to pickup a food pairing that comes complimentary with every small batch purchase. Cheers!
Check out our upcoming events to see what the brewers have brewed up this month!