distinctive & delightful
Food Menus
appetizing food
Always Something for Everyone
We love what we do and it you can taste it – from our fresh and local ingredients to our adventurous and inventive dishes: you'll soon come to realize we are bold. Both our craft beer and delicious organic food are made in-house just for each other – you could say they're a natural pair. We believe in the power of good food and good beer and that's why we use fresh, local, and organic ingredients. Scratch that – not just organic – we make all of our dough, pizza sauces, and bread from scratch!
Food to satisfy your craving
Day Block Brewing Company is the best brewery with food in Minneapolis. Take a look and then come on in – or order for take out!
keeping it local
Fresh Ingredients
Following our Triple Green Strategy

Triple Green Strategy
By keeping our ingredient sourcing local we are ensuring that our process benefits both our customers and the local communities that grow our ingredients. We do this through being more selective (fresher ingredients), sourcing local (reducing environmental impact), and buying local (keeping more money in local communities).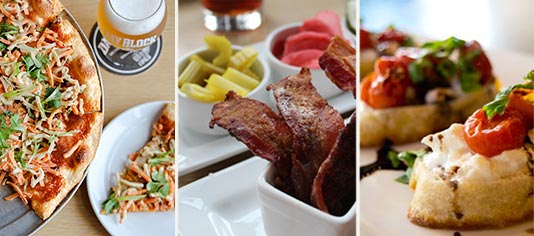 Ingredient quality matters and that's why we chose to source locally from small farms in Minnesota and Wisconsin. By sourcing locally, we are able to form lasting partnerships with the people who grow our food. In turn, we can be more selective about the quality and flavor character of ingredients and we chose the ones that work perfectly for our recipes. In the end you can rest assured knowing you are getting the freshest and tastiest food because we strive for local organic quality above all else.